Perfect Strangers raises questions about what motivates an individual towards an extreme act of compassion. The film tells the story of two unique and engaging characters. Ellie embarks on an unpredictable journey of twists and turns, determined to give away one of her kidneys. Five hundred miles away, Kathy endures nightly dialysis and loses hope of receiving a transplant until Ellie reads her profile on an online website. Both women face unexpected challenges as their parallel stories unfold over the course of four years. Why are we unnerved by the idea of such an extreme gift?
69 minutes
Educational Sales
Educational & Institutional Screenings & Sales
The producer of Perfect Strangers is partnering with GOOD DOCS on educational distribution. This award-winning documentary is now available for rentals, DVD and streaming sales to institutions:
Universities, four-year colleges and community colleges
High schools
Nonprofits and community groups
Hospitals and medical schools
For-profits/corporations
Please visit this website for more details about buying or renting the film, or contact the GOOD DOCS team: outreach@gooddocs.net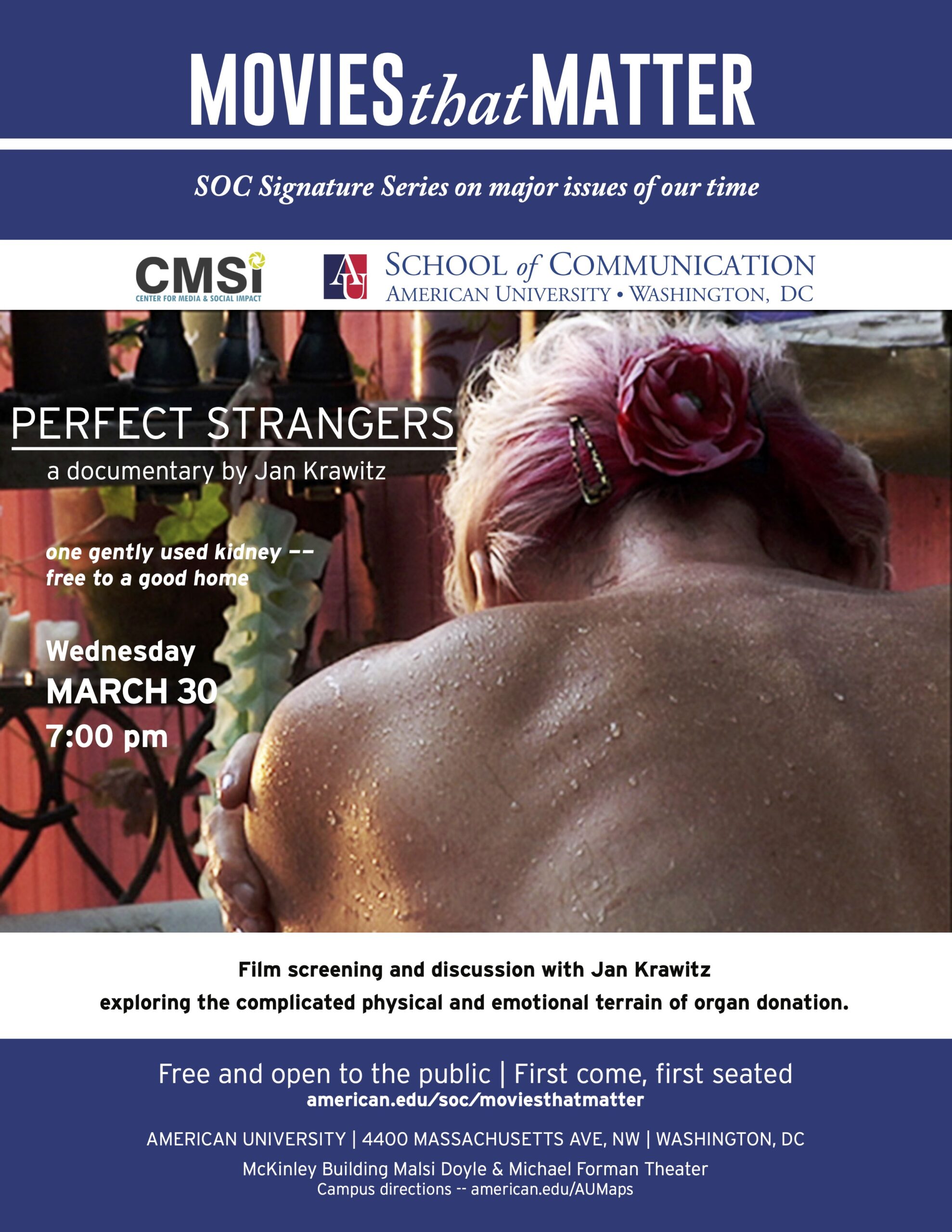 FAQs
Can I buy this film on home video DVD and show it to my class or group?
No, if you want to use this film for any kind of institutional, classroom, group or public screening, please purchase it from GOOD DOCS. For personal use only, you can purchase a DVD through the "Home Video DVD Sales" tab on the left.
How can I have a screening of Perfect Strangers?
In order to screen a film at an educational institution, public performance rights (PPR) must be secured. PPR permits screenings in a classroom or library when no admission is charged. Those rights can be purchased for a limited time (14 days) or permanently (perpetual streaming or DVD). There are different prices for internal screenings (for use in a class) or public screenings (open to the general public).
How can I secure public performance rights for Perfect Strangers?
The filmmaker is working with GOOD DOCS to handle rentals and sales to educational institutions. You can learn more details here.
Can I buy a DVD for educational distribution?
Yes, you can purchase it here.
Do you accept Purchase Orders (PO)?
Yes. You can fill out the form here or please contact outreach@gooddocs.net for more information.
How can I invite the producer/director, Jan Krawitz, to speak at a screening of Perfect Strangers?
Contact education@gooddocs.net to book a talk, or fill out this form.
Home Video DVD Sales
Home Video Sales
For home video DVD purchase, use the PayPal link to place an order for $23.99 (includes $4.00 postage/handling) payable to Jan Krawitz.
For home video international orders outside the U.S., please email krawitz@stanford.edu for shipping costs.
All films, videos, DVDs and Blu-ray Discs are protected by United States copyright law. Duplication, reproduction, alteration, subleasing, television (broadcast, cable or close circuit) or commercial use (i.e., charging admission) is strictly prohibited without written consent from Jan Krawitz.
Awards/Screenings
Awards
Best Feature Documentary Award, DocuFest Atlanta
Audience Award/Best Feature Documentary, Sebastopol Documentary Film Festival
Audience Award/Best Feature Documentary, San Luis Obispo International Film Festival
Honorable Mention, Santa Fe Independent Film Festival
Selected Screenings
American Documentary Film Festival
Big Sky Documentary Film Festival
Hot Springs Documentary Film Festival
Heartland Film Festival
SanFrancisco DocFest
Thin Line Film Festival
Rocky Mountain Women's Film Festival
ReelHeART International Film Festival, Toronto
Dallas VideoFest
Chagrin Documentary Film Festival
Global Health Film Festival
Princeton University
Husson University
Dalarna University, Falun, Sweden
Georgetown University
Stanford-Harvard Alumni Club, Berlin
Radcliffe Institute for Advanced Study, Harvard University
Dartmouth College
Hunter College
Temple University
American University
Humboldt State University
Lesley University
USC Medical School
Reed College
14 Pews, Houston
The Evergreen State College
Stanford University Medical School
Clayman Institute for Gender Research
Transplant Games of America, 2014 and 2016
American Association of Kidney Patients National Conference
American Psychological Association National Conference
Southern Circuit Tour
American Public Health Association National Conference
Donate Life, Northwest
Transplant Recipients International Organization, San Francisco, New York
Legacy Good Samaritan Medical Center – Portland
California Pacific Medical Center – San Francisco
St. Michael's Hospital – Toronto
Broadcasts
Press
Press Quotes
"Perfect Strangers is a stunning piece about love in ways that I've never imagined. Her characters jump off the screen into your hearts. Her storytelling simplicity is inundated with complex issues of some of life's most challenging issues. Remarkable film, remarkable filmmaker."
– Allan Holzman, Emmy and Peabody Award Winning Director
"It's a fascinating journey with amazing footage….tense and touching moments."
– Kathryn Eastburn, Colorado NPR
"The film tells the story beautifully from both the transplant and the donor perspective. It accurately conveys the emotional highs and lows of both parties and leaves you wondering how you could help a stranger in need."
– Laura Frnka-Davis, LifeGift, Fort Worth
"A haunting portrayal of how an altruistic person comes to grips with the true meaning of charity; anonymous, selfless and with the faith that each one of us has the power to change at least one life and, by extension, the world."
– A.H., living kidney donor
Reviews
Educational Media Reviews Online
Video Librarian
Library Journal
KRCC
From the Heart Productions
theindependentcritic.com
Valley News
Clayman Institute for Gender Studies
Characters
Characters
Ellie is a massage therapist who lives on the central coast of California. After meeting a young woman in the early stages of kidney disease, she was inspired to learn more. Her curiosity led her to a website where potential donors and recipients can meet. After becoming aware of the tremendous need for organ donors, Ellie decided to donate to a perfect stranger. The film picks up her story at this juncture.
Kathy lives with her husband Jim in northern California, 500 miles from Ellie's home. She experienced the early stages of kidney failure in her twenties. After starting dialysis and getting placed on a kidney waitlist, she began to look for a living donor. Hoping to accelerate the seven years that she would likely spend waiting for a kidney from a deceased donor, she posted her profile on matchingdonors.com.
Director's Statement
Director's Statement
I met Ellie in the early days of her exploration into donating a kidney to someone in need. Articulate, insightful, and irreverent, she is an ideal protagonist for this experiential, character-driven film. From the outset, I was granted unprecedented access to Ellie and Kathy's lives as the three of us embarked on an unpredictable journey spanning several years. The film reveals the physical and emotional terrain of organ donation through an intimate portrayal of the process.
Perfect Strangers is ultimately a study of the human condition, specifically focused on what motivates an individual towards an extreme act of compassion. Filmed over four years, the longitudinal approach to the narrative accommodates the uncertainty of the outcome for both Ellie and Kathy. Organ donation from a deceased donor is held in high regard and many blithely affix the "pink dot" to their driver's license. But altruistic organ donation, situated on the outer edge of the "giving" continuum, can elicit suspicion and hostility. Why do we feel threatened by the idea of such an extraordinary gift?
As the population ages, the waitlist for a deceased donor kidney grows longer. There are now more than 102,000 people on that list. Organ donation from living donors can significantly increase the supply but many people feel discomfited by the idea. Through the prism of one kidney's journey, Perfect Strangers confronts thorny philosophical and ethical questions about altruism and acts of compassion.
Post-screening Panel
Credits
Credits
Producer, Director, Editor – Jan Krawitz
Cinematographers – Charlene Music, Mike Seely
Additional Camera – John Kane, Melanie Levy, Ryan Malloy, Theo Rigby
Music – Max Avery Lichtenstein
Funding:
The Fledgling Fund
Ruth Levison Halperin Fund
Lucius & Eva Eastman Fund
Contact
Contact
Jan Krawitz is available for speaking engagements with her films at conferences and universities. She also conducts master classes and presents public talks about documentary film as a Visiting Filmmaker.
Jan Krawitz
Department of Art & Art History, 355 Roth Way
Stanford University
Stanford, CA 94305-2018

krawitz@stanford.edu
www.jankrawitz.com